Whether you're conducting a training session or looking for a fun way to gather feedback from your employees or customers, Quizizz makes it easy to conduct fun quizzes that are sure to keep your audience engaged.
The first step to hosting a quiz is to create a Quizizz account so you can create the quiz you'd like to play. We have a number of different question types available to make the quiz more entertaining for your participants. Every quiz you create is available under 'My Quizzes' in the navigation menu.
You can use Quizizz to host live quizzes or play asynchronously. Here's a little bit about each type of quiz and how you can play it with others.

Playing Live
Select the game you'd like to play from the list and click on 'Play Live' if you'd like to host the quiz immediately.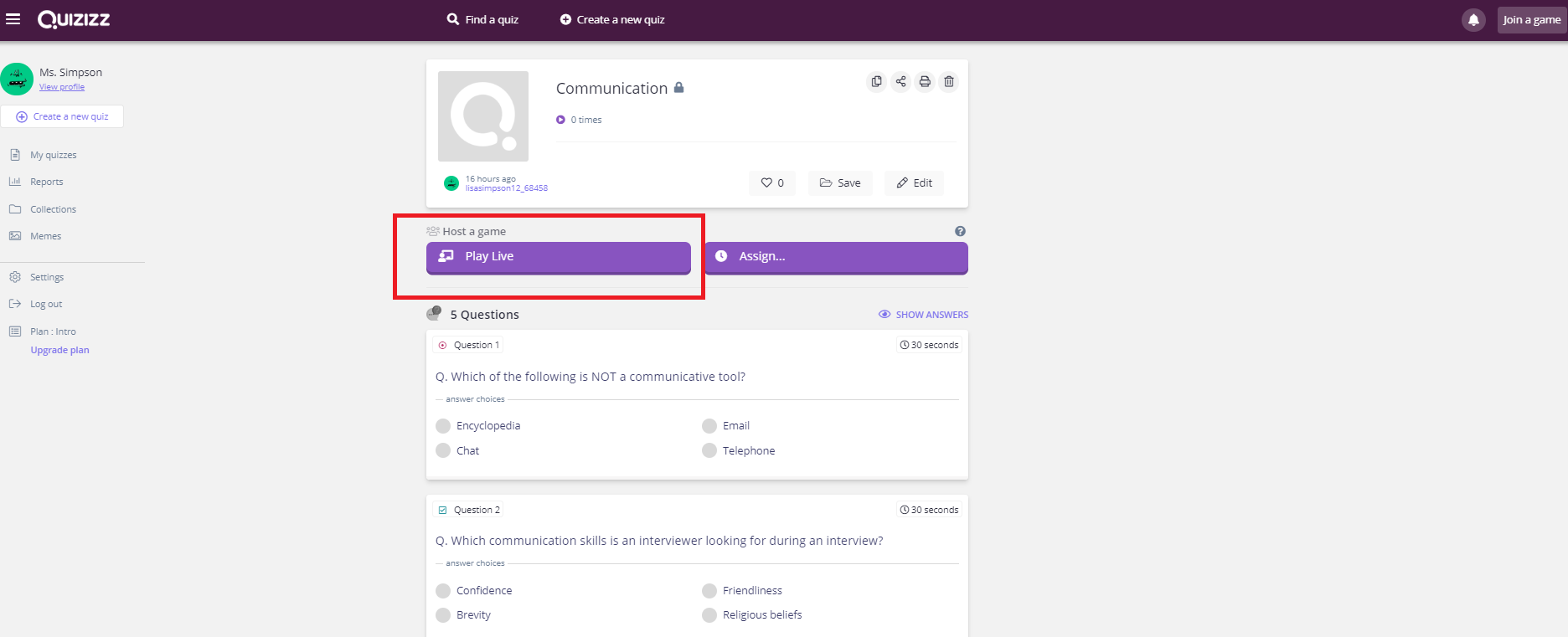 Now pick the game mode you'd like to play. There are three modes available on Quizizz.
Go with 'Classic' if you want the respondents to play and be scored independently.
Click on 'Team' if you'd like to split the group into teams while answering the quiz. Each member of the team answers on their own device. Their cumulative scores make up their team's score.
Test mode is ideal for serious assessments — no power-ups or multiple attempts (among other cool things) in this one.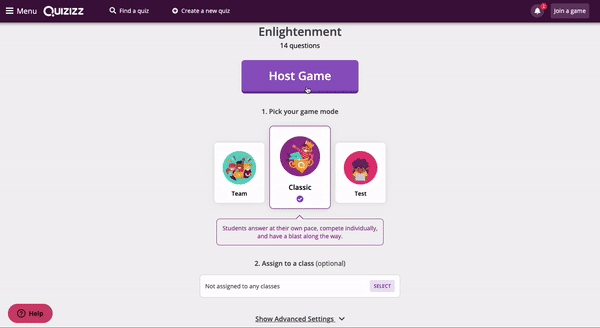 Each mode allows you to control some general and gameplay settings in the game. You can browse through the settings and change the ones you'd like to include (or exclude) from the game. Click on 'Host Game' once you're happy with the settings to get the ball rolling.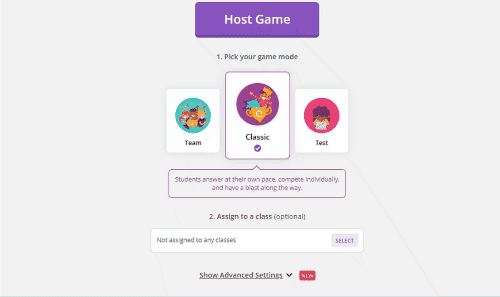 You will now see a game code on your screen. Share this code with the players to start the game. All players joining the game will have to go to joinmyquiz.com/pro on their device and add the game code to start playing.

This is what your screen will look like once players start joining the game. Each player's name and avatar will appear under the 'Start' button. Click 'Start' to initiate the game once everyone has joined.

The best part of the game is seeing the live dashboard at the end. It shows you:
Option to play again
Review questions with all players
Data points from the game
Player scores and details

Playing Asynchronously
You can also use Quizizz to assign quizzes to your participants that they can attempt at their own convenience. Only participants with a valid quiz link (shared by you) will be able to view and attempt the quiz.
Here's how you can assign a homework quiz on Quizizz:
Click on 'Assign' to assign a quiz to your students in your class.




Add a deadline by when participants need to complete the quiz. You can edit a deadline as often and as many times as you'd like before it expires.

Once you've entered the deadline go ahead and host your game. Clicking on Continue will take you to a page with the game link that you need to share with your participants so they can play the game on their own device.